Slekten til Lars Larsen Arnegårdeie og Kari Nubsdatter Grimsgårdeie.
"The Family of Lars and Kari."

Lars Larsen Arnegårdeie ble født 28 september 1836 i Mulleplass som dengang var en husmannsplass til Arnegård. Han giftet seg så 30 april 1863 i Nes kirke med Kari Nubsdatter Grimsgårdeie. Kari var født 5 august 1839.
Lars was born 28 of September 1836 in Mulleplass. This was a small farm under Arnegaard. He married 30th of April 1863 to Kari Nubsdatter Grimsgaardeie - after they got their second child. Kari was born 5th of August 1839.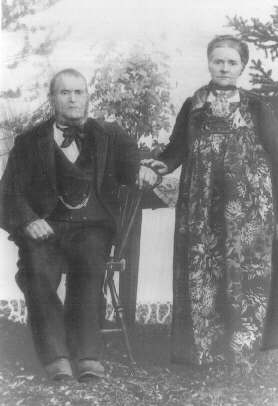 A picture taken of Lars and Kari before their son went to America. I believe the picture is taken about 1901 - 1902.
They got 7 barn"children":