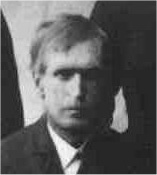 Hans Larsen Mulleplass

Hans was born 30th of October 1829 on Husemoen farm in Nes parish just after the parents came back to Nes parish. Hans went to the school in Nes and had some writing knowledge. After the school there was not much work to get beside cuttun lumber. He went from Nes to the Tunhovd area just across the mountain. There he met Ingeborg Kristoffersdatter Veslegaard. The romance was in the air and the daughter Barbro was born in the spring and the couple got married and baptized their first child at the same time in June 1865. They rented the farm Sønstegård Lien and tried to make their living there.

Life was hard to everyone in the area and many families left for America. After hearing from others how it was they decided to leve too for America. In 1871 they left Tunhovd to Nes and the same spring on May 15th 1871 they left Norway. The trip went to England. Crossing England by train that took only one day they left the harbour on a steamer heading for Quebec that was the closest harbor and fastest trip to get there.

They came to Belvidere Township in Goodhue County - Minnesota. Here they stayed till 1879 and left for Wisconsin where Hans had bought a small farm. It was in Trenton Township in Pierce County. Here they stayed with their 3 children. 2 of the was born in Minnesota.